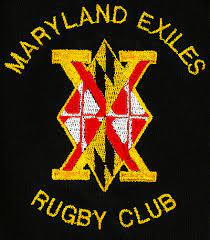 Maryland Exiles Club History
The Maryland Exiles Rugby Club formed in 1993 when three local clubs joined forces: The Maryland Old Boys (MOB), Old Red Rugby Club, and Montgomery County Rugby Club.
MOB competed in the Potomac Rugby Union's Division I since its founding in the early 1970's. Possessing skill in 15's as well as 7's, MOB made national headlines by winning the 1989 National Club Seven Championship. Likewise, Montgomery County Rugby Club was once one of the top Division II clubs in the Potomac Union.
Old Red was once one of the DC/Metro's premier rugby premier rugby clubs. However, lack of a feeder club left Old Red over matched in the early 1990's against upstart clubs such as Potomac Athletic Club and Washington Rugby Football Club.
Since the early 1980's, the Maryland Old Boys and Old Red entered the Atlantic Cup tournament in Lewes, Delaware. The tournament marked the end of the beach season start of the fall fifteen's rugby season. The two rival teams would play together under the moniker the "Bethesda Exiles." In the fall of 1992, discussion began to merge the Old Boys with the Montgomery and Old Red teams, after one season of a successful merger between Montgomery and Old Red.
Since 1993, the Maryland Exiles Rugby Club has toured England, Sri Lanka, Grand Cayman, and conducted national tours of Chicago and Aspen. The Exiles claimed 15's victories at the Rites of Spring Tournament, Savannah St. Patrick's Day Tournament, Reading April Fools, the Atlantic Cup and the Porter Cup. In 1994 and 2001, the Exiles took second in the National Club Sevens Championship.
In the 1996 Aspen Ruggerfest, the nation's premier 15s tournament, the Exiles placed third out of the top 16 teams. The Exiles qualified for both the inaugural (1996) and follow-up rounds of the National Club Championship and returned in 2007 and 2013.
The Exiles have hosted numerous overseas players, including former Maori All-Black trialist Romana "Boom" Graham, Hawkes Bay fly-half Sean Bell, Super 12 fullback Nick O'Sollivan, former Blue Bulls U-21 standouts Jaco Swart and Chester Mbekela, and Kenyan Internationals Leslie Mango and Ishmael Olewe.
Current players Robert Garvis and Trevor Tanifum represented the Exiles in sevens and fifteens by training with numerous Eagles in the summer of 2013. Garvis trained with the 15s Eagles in South Carolina, while Tanifum toured with Tiger Rugby and 1823. The Exiles are coached by former Rugby World Cup participant Owen Lentz.
Notable Players
Representative Players
Fifteens Eagles
Inaki Basauri (2007)
Owen Lentz (2006, 2007)
Dr. Bill Hayward (1991)
Kevin Gittings (1998)
Fifteens Junior Eagles or Eagle "A"
Steve Burnham
John Burns
John Gerold
Dave Kenkel
Sevens Eagles
Will Brewington (1987 – 1993)
Brian Gallagher (1997)
Vince Granger (1989)
Mark Miller (1994)
Chris Petrakes (1987)
Dave Ries (1998)
Don Younger (1997 – 2002)
Eddie Galpin (2001)
Tom Sanders (2004)
Joe Fradella (2004)
James Gillenwater(2007)
College All Americans
Mike Brennan (Maryland)
James Gillenwater (Vanderbilt)
Steve Laake (Loyola College)
Justin Lukas (Cal-Poly)
Jeff Soeken (Maryland)
Tom Sanders (Virginia)
Don Younger (Indiana)
High School All Americans
Chance Doyle
Jeff Bogart
Andrew Pearson
Adam Hernandez
Erik Brown
David Pearson
Jose Guevara
Jon de Brun-Kops
Inaki Basauri
Chris Pacious
David Williams