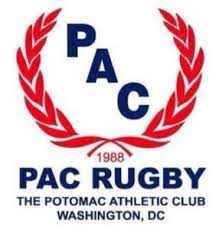 Club History
The Potomac Athletic Club (PAC) traces its origins to two of the oldest rugby clubs in the Mid-Atlantic, the George Washington Rugby Football Club (GWRFC) and Sudamericano Rugby Football Club (SUD), both founded in Washington, DC in 1967 and 1969 respectively. In 1988 these two teams merged to form the Potomac Athletic Club. In 1993, a mere 5 years after forming, PAC made their first appearance in the national final four, finishing 3rd. In 1995 PAC returned to the final four and won the USA Men's Division 1 National Championship.
PAC was a founding member of the USA Rugby Super League, which was formed in 1996 to be the nationwide elite competition for American men's rugby clubs. A perennial in the national club championship playoffs, PAC established itself as a top ranked premier club in the United States and one of the dominant teams in the North East.
Since the demise of the Super League, PAC competed in the United States Mid-Atlantic Rugby Football Union (MARFU) Division 1 against clubs from the Washington DC/Baltimore/Philadelphia area, as well as against clubs from all over the U.S. In that time, PAC had consistently been one of the most successful men's rugby club in the Mid-Atlantic, regularly winning MARFU Division 1 and competing in the USA Rugby's National Division 1 playoffs.
PAC's players have come from all over the United States and other rugby playing countries, among them the United Kingdom, Australia, New Zealand, Argentina, South Africa, Ireland, France, Canada, Chile, Uruguay, and Lithuania. Our players have played on the U.S. National team as well as territorial and local union select sides. Many of our old boys remain committed to rugby and continue to participate as coaches, referees, and administrators.